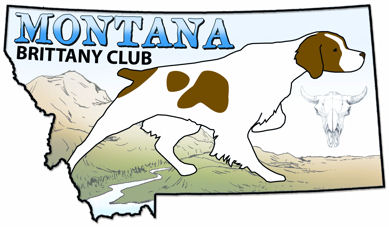 ---
Breeder and Stud Dog Registry

It is a goal of the MTBC to promote responsible and ethical Brittany breeding and ownership!
---
Disclaimer:
No guarantees or endorsements regarding the dogs or breeders listed here are made or inferred. This is provided purely as an informational service by the Montana Brittany Club. The Club encourages potential Brittany buyers to
thoroughly
research the breed, make sure both parents have been screened for hip dysplasia and have passed, ask for
references
, health history, a contract, guarantees, and, if possible, see both parents. The MTBC also encourages potential buyers to consider
Brittany Rescue
.
---
Breeder Registry - To be listed on this site a MTBC member breeder must follow the ABC and AKC breeders code of ethics, strive to conform to the Breed Standard, and breed only OFA or PennHIP certified stock.

Kennel Name

Contact Information

Web site

True Grit Britts

Tana & Conrad Kradolfer
5075 Clearview Road
Belgrade, MT


406-388-4974


tana@truegritbrits.com


http://truegritbrits.com/index.html



Warbonnet Brittanys

Todd & Jan Breitenfeldt
P.O. Box 883
Whitehall, MT 59759


406-498-5236




toddb8877@gmail.com



http://britts-n-pekes.com/

Kinwashkly Brittanys

Andreas, Leslie
Maple Creek,
Saskatchewan, Canada


andreasl@sasktel.net

http://kinwashklybrittanys.com/

Square Butte Brittanys

Terry Courtright
305 9th Ave SW
Great Falls, MT 59404


406-727-5271


courtright@bresnan.net


http://squarebuttebrittanys.com/



Elkhorn Mountain Brittanys

Tommie Dahl
PO Box 349
Clancy, MT 59634
406-459-1827

https://elkhrnmtnbrittanys.wixsite.com/elkhrnmtnbritts

Treasure State Brittanys

Ron & Pam Noe
Whitehall, MT

https://treasurestatebrittanys.com/

Stud Dog Registry - To be listed on this site a MTBC member stud dog owner must follow the ABC and AKC breeders code of ethics and breed/breed to only OFA or PennHIP certified stock.
Kennel Name & Contact Info.

Name, OFA or PennHIP number, and Photo of Stud Dog


True Grit Brits
Tana Kradolfer
5075 Clearview Road
Belgrade, MT
406-388-4974



http://truegritbrits.com/index.html



tana@truegritbrits.com








True Grits Briers Gift

. OFA Good. OFA # BS-13900G25M-PI


---

Also:

Montana Rusty Little Pants

OFA Fair. OFA # BS-12835F43M-PI























Treasure State Brittanys
Ron & Pam Noe
Whitehall, MT

Contact
https://treasurestatebrittanys.com/
for more info and to inquire.





Treasure States Toby Mac Daddy
OFA Good. Elbow's Normal
DNA (Field Dog Stud Book): #AFP1424

2017 Derby Invitational invitee





Treasure States Tooney's Tribute
OFA Good. Elbow's Normal.
DNA (Field Dog Stud Book): #AFP2132

2018 Derby Invitational Runner Up





Elkhorn Mountain Brittanys
Tommie Dahl
Clancy, MT

Contact
https://elkhrnmtnbrittanys.wixsite.com/elkhrnmtnbritts/apollo





GCH CH Elkhrn Mtn's Poetic Playboy TKN "Apollo"
OFA Good, Elbow's Normal, CAER (Eyes) Normal as of September 2022 CHIC#174535
3rd Money Male (Show) ABC Western Futurity 2022
Reserve Best in Show
Multiple Group Winner/Placer
Best in Show Owner Handled
#6 NOHS (National Owner Handled Series) Brittany 2022
Award of Excellence AKC National Championships Brittany Breed Judging 2022
Apollo is naturally bob-tailed, and will not be approved for bitches that are also naturally bob-tailed (born with short/no tail)