Fall Field Trial
Premium: http://montanabc.org/2015-Premium.pdf
Dates: Aug., 28, 29, and 30th, 2015.
Same location and courses as in the past, near Sun River, Ulm, and Great Falls, MT.


Rattle Snake Avoidance Clinic
Sat. July 11th, 2015
9:30 AM




Cost per dog: $40. MTBC Club members: $30. Recheck: $20.
Location: True Grit Brits Kennel, Bozeman, MT
Contact: Tana Kradolfer for more information: tanabanana.k@gmail.com
Professional Dog Trainer: Butch Nelson.

This safe and effective method has been used successfully for many years. Participating dogs must wear a sturdy collar that can be adjusted so that there is no chance that the collar can slip off over the dog's head. Sturdy, correctly fitting collars will be available if you do not have one. The training process takes only a few minutes per dog so you do not need to make a reservation. You will be able to watch the training from a distance however, NO cameras please.

Directions to True Grit Brits: 5075 Clearview Rd, Belgrade, MT 59714. Take the North 19th/Springhill exit to Springhill Rd. turn run right onto Springhill Rd. and travel approx. 5 miles, turn right on East Baseline Rd., then go 1/4 mile and turn left onto Clearview Rd. Please park in the driveway or on the shoulder of the road.





Arrow
Wins Magnum's Masked Man Award for the 2nd year in a row!!




Arrow (DC/AFC Beaver's Straight Arrow) is owned by Montana Brittany Club member Richard Beaver.
Photos and Field 2012 Trial Placement Record
Field 2013 Trial Placement Record

Halle
Takes 4th place in the 2014
Western Futurity Gun Dog!!


Photo by: Brigade Photography - Deborah Frane
Halle is co-owned by Montana Brittany Club member Terry Courtright (kneeling).

Indy

Indy, Warbonnet Independence, placing 2nd at the 2015 Western Futurity show. Pictured with his breeder Todd and his happy owners Susan and Don.

New Show Champion

Photo by CLK Custom Design
Halle, CH Kinwashkly Do U Believen Magic (Co-owned by club member Terry Courtright), just won two majors in a row and now is an AKC Bench Champion. In six months, she placed in the Western Futurities, finished her bench championship, and got an excellent rating from OFA! June, 2014.

Photos: Fall Field Trial: Aug. 23-25th, 2013.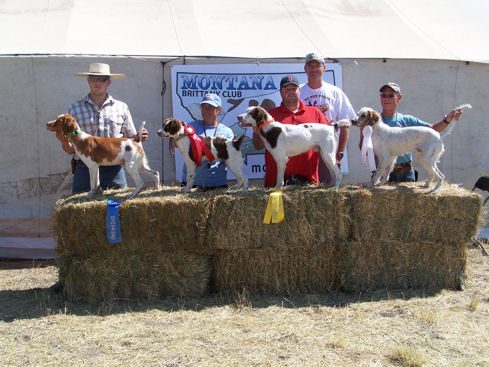 Winners Open Puppy, MTBC Fall 2013 Field Trial.
Photos
Premium Running Order - For 2013.
Near Ulm and Sun River, MT.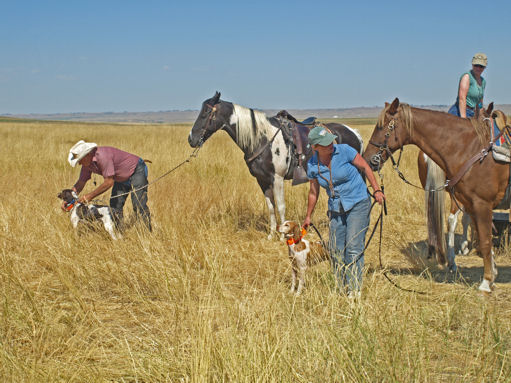 Two contestants ready for the break away at a Montana Brittany Club fall field trial!

---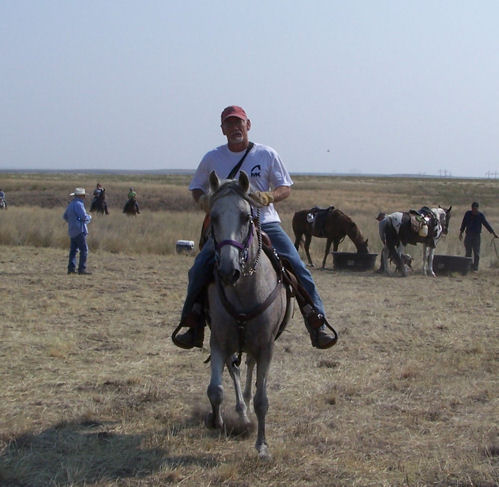 Fall, 2013 MTBC Field Trial.