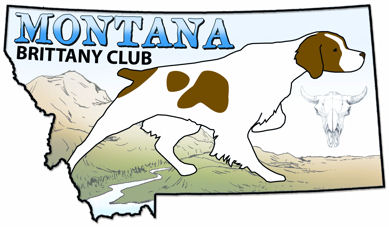 MONTANA BRITTANY CLUB
2010 FUN TRIAL AND

ANNUAL

MEETING



---
February 27th, 2010 - at Grey Cliffs Ranch, Three Forks, MT.
(rescheduled for March 13 if we have bad weather)

---
This year this fun trial will be run like an AKC Walking Field Trial. (see www.akc.org and click on downloadable forms then click on rules and regs then choose" field trial rules for pointing breeds") In order to get finished up in one day before dark we are limited to running 16 twenty minute braces, consequently only the first 32 entries will be accepted.

---
Stakes include:
Puppy(6mos-15mos)8:00am, Derby(6mos-2years)9:30am, Open Gun Dog(6mos and over)11:00am to 5:30, and a 30 min All-Age if the others don't fill.

---
20 minute course with bird field. Birds will be chukars.
Choose retrieving or non-retrieving at time of entry and you will be braced with the same. Break open shotguns and blank pistols only.
---
Lunch break & club meeting/officer elections at 12:00 noon.
$25.00 entry fee per dog.
---
This is a break even event so this fee pays for the birds, use of the grounds, lunch, equipment, prizes and gifts for the judges & horses.
---
JUDGES FOR ALL STAKES: CONRAD KRADOLFER AND JOHN TODD
---
Contact Tana Kradolfer at 406-388-4974 to enter asap!
Brace sheets will be emailed to you. Please be on time for your brace since we are really going to have to hussle to get 16 braces done. Volunteers needed for bird planting, Lunch pickup, set-up and tear-down.

---
MTBC HOME