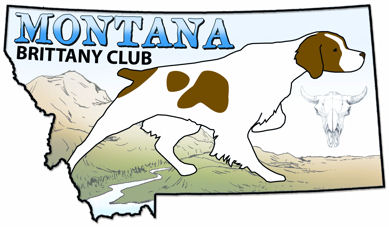 Montana Brittany Club
Is Hosting:
---
Rick Smith's
Pointing Dog Training Advanced Academy

Prerequisite: Must have attended an Intermediate Seminar
---
Thur, Fri, Sat & Sun, July 14-17, 2011

---
Here's your chance to put the finishing touches on your dog! Work one-on-one with your instructor and your dog on over 250 quail over the course of the Academy. You will put the final touches on whoa, steady to flush, and honoring/backing. This is the top level class available and will give you all the extra touches that make a good bird dog great.

Plan on long days, hard work, fun and learning. When you're not running your dog, you will watch and learn from seeing your fellow students work with their dogs. It all combines into a learning and training experience that is second to none.

Photo from
Rick's website http://www.huntsmith.com
---
The Advanced Academy: $1300 per student, limited to 10 students and a 50% deposit is needed to reserve your spot.

For more information on seminars see Rick's website http://www.huntsmith.com

---
Location:
Old Springhill Homestead
10711 Corbly Gulch Road
Bozeman, MT 59715
Sorry,
No overnight camping permitted
---
Equipment Needed:
Lawn Chair (a must)
Flat Leather Collar*
Check Cord*
Lead Rope*
Gloves (a must - good fitting leather gloves for check cord work,)
Rain Gear (seminar continues regardless of weather)
Walking boots
Rubber Boots for damp conditions
Pans for water and feed
*Items available for purchase at the seminar
---
Accommodations – Please make reservations immediately:
Camping (available within minutes of the Seminar grounds):
Bear Canyon Campground (406) 587-1575
Sunrise Campground (406) 587-4797
Bozeman KOA (406) 587-3030
Dog Friendly Motels (Please contact directly for specific dog policies and fees):
AmericInn (406) 522-8686 (Closest to seminar site)
The Bozeman Inn (406)587-3176
Holiday Inn Express Belgrade (406) 388-0800
La Quinta Inn & Suites Belgrade (406)388-2222
---
Directions To Seminar Site:
From I-90 at Bozeman, take the "Springhill North 19th Ave." exit #305. Turn north off the ramp which will take you to Springhill Road. Turn Right onto Springhill Rd at the light. Go north 8.4 miles and turn right on to Springhill Community Rd. Go 1.4 miles and turn left on to Corbly Gulch Rd. Take Corbly Gulch 1.7 miles to the site. Look for a tan barn with a green roof on the left.
---
Meals:
Lunches will be available Saturday and Sunday for a nominal price. Order and pay at registration on Friday evening. Students are welcome to bring their own food and beverage.
Bottled Water and Soft Drinks will be available at no cost.

---
For more information contact Bob Myers, 406-422-0213, bobmyers@bresnan.net
---
MTBC Home